Japan is famous for its volcanic activity and the consequent by-product, hot springs.You come to Japan and it is almost a given that you will want the best bathing experience of your life.
Yukemuri no Sato Susukino – 湯けむりの里 すすき野
HP: http://yukemurinosato.com/susukino/
Boasts 15 types of baths, massages where the masseuse uses his/her feet, 6 types of  rock sauna and a restaurant. It is in Yokohama, but including it because it is cheap and easily accessible from Tokyo.
It is only  600 yen (750 yen holidays) for the bath area and 500 yen for the rock sauna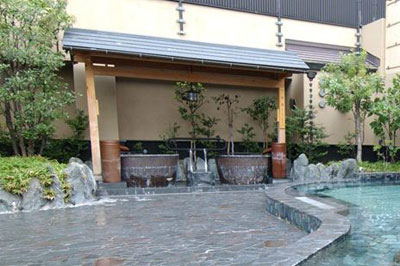 Address: Yokohama-shi Aoba Susukino 3-2-7
Location: Free shuttle bus from Azamino Station on the Tokyu Denentoshi Line
Times and the bus stop location are here
Hours: 7:00-12:00 am
Facilities: 15 different baths (11 indoors, 4 outdoors), rock sauna, normal sauna
Non-Bath Facilities:  massages, resting room, and restaurant
Saya no Yu Dokoro – さやの湯処
HP: http://www.sayanoyudokoro.co.jp/
Ranked as one of the best onsen in Tokyo. Pretty garden and has individual rooms you can rent for 2 hours at a time and even enjoy a meal in (extra fee)
800 yen on weekdays/ 1000 yen on weekends


Address: Itabashi-ku Maenocho 3-41-1
Location: 8 minute walk from Shimura-Sakaue Station 志村坂上 on the Toei Mita Line
Hours: 10:00-1:00 am
Facilities: outdoor onsen bath (straight from the source), assorted other outdoor baths, 8 different types of baths indoors, dry sauna, steam sauna
Non-Bath Facilities: restaurant, resting room, private rooms
Myoujin no Yu – 明神の湯
HP: http://www.myoujin-no-yu.com/
Is a bit out of the way, but is highly ranked among its customers. The draw is the large outdoor bathing area.
900 yen on weekdays/ 1200 yen on weekends
But! Every 3rd Thursday is 600 yen
Every Tuesday is 700 yen for women
Every Monday is 1,400 yen for married couples 
Weekdays 21:00-24:00am or 10:00-12:00pm 600 yen


Address: Adachi-ku Oyata 1-18-1
Location: Unfortunately, a bit of a walk if you do not have a car. From JR Kameari Station, take the Tobu bus, no. 25 or 27 to Oyata 大谷田
Hours: 10:00-12:00 am (It is closed every 3rd Tuesday)
Facilities: all 7 baths are outdoors, some of the baths are made with Japanese cypress (very fragrant and relaxing), a mist sauna, and normal sauna
Non-Bath Facilities: massage options, and restaurant.
Oedo Onsen Monogatari – 大江戸温泉物語
HP: http://www.ooedoonsen.jp/daiba/
Best known enormous bathing facility in Tokyo.
If you are extremely impressed with the experience it is also possible to stay overnight. There is also a restaurant, if you wanted to spend the day.
1,980 yen (weekdays), 2,180 yen (holidays)

Address: Oedo-ku Harumi 2-6-3
Location: This place is big enough to have it's own free shuttle bus. There are many buses with different time tables, but the site is in Japanese.
The closest locations are Telecom Center Station テレコムセンター駅 on the Yurikamome Line and Tokyo Teleport Station 東京テレポート駅 on the Rinkai Line. There will be buses outside of the station and should stand out and read Oedo Onsen Monogatari 大江戸温泉物語
Hours: 11:00-9:00 am
Facilities: 5 types of indoor baths, large outdoor bath, individual outdoor bath, mist sauna, standard sauna, rentable rooms with private bath
Non-Bath Facilities: Spa (not included in entry price), Hot Rock-Salt Room (30 min: 600 yen, 60 min: 1,000 yen), shopping center, fortune teller, game corner (ninja shuriken-throwing area!), tatami resting room, and resting room with reclining chairs.
Nagomi no Yu- なごみの湯
HP: http://www.nagomino-yu.com/
Located right next to Ogikubo Station on the Chuo Line. This is a very convenient bath house that contains 8 different stone sauna rooms, kept at varying temperatures (stone sauna is 300 yen extra)
2,150 yen (includes rental towel, lounge wear, and washcloth)
When you come in at 5:00 am-8:30am 1,200 yen
The 26th of every month (not applicable if the 26th is a holiday) 1,950 yen
Overnight stay 5,000 yen

Address:  Suginami-ku Kamiogi 1-10-10
Location: 1 minute from JR Chuo Line Ogikubo Station 荻窪
1 minute from Tokyo Metro Marunouchi Line Ogikubo Station 荻窪
Hours: 10:00-9:00 am
Facilities: indoor bath, outdoor individual baths, indoor carbonated bath, jacuzzi bath, foot bath, and cold bath
Non-Bath Facilities: sauna, salt steam sauna, minus ion sauna, 8 different stone sauna rooms kept at different temperatures, restaurant, massage, manga corner, and 4 other resting rooms
Niwa no Yu- 庭の湯
HP: http://www.niwanoyu.jp/
The garden is a very large Japanese garden and the facilities are big enough for a full day of relaxation. There is even a pool area, and a Finnish style sauna.
2,250 yen (includes rental towel, lounge wear, and washcloth)
After 6pm on weekdays: 1,260 yen 


Address:  Nerima-ku Koyama 3-25-1
Location: 1 minute from Seibu Ikebukuro Line, Toshimaen Station 豊島園
2 minutes from Toei Oedo Line, Toshimaen Station 豊島園
1 minute from Toshimaen Station 豊島園 when you transfer over from the                                 Seibu Yurakucho Line Nerima Station 練馬
Hours: 10:00-23:00 pm
Facilities: indoor carbonated bath, microbubble bath, a reclining bath, large main bath, and outdoor bath in the garden.
Non-Bath Facilities: Large pool, rooftop jacuzzi, hot spring jacuzzi, Finnish sauna, hot tub, steam sauna, restaurant, resting rooms, and spa.
Onsen for cheap/retro-style
Many of these are bath houses that are affiliated with the Tokyo Association of Hot Springs/Public Baths. The price right now for one visit to one of the affiliated baths is 450 yen. You can buy a pass good for 10 visits at affiliated baths for 4,200 yen.
You can check out which bath houses are affiliated here
Takaban no Yu – 鷹番の湯
Budget bathing.
It is only a mere 385 yen to go to Takaban no Yu in Meguro. A bit retro, but that could be a draw.


Address: Meguro-ku Takaban 2-2-1
Location: 6 minute walk from Gakugeidaigaku Station on the Tokyu Toyoko Line
Hours: 15:00-1:00 am (Holidays: 14:00-)
Facilities: 2 types of jet baths, regular bath, outdoor herbal bath, and a sauna (sauna is 715 yen)
Shimizu Yu – 清水湯
It is  450 yen to bathe in style in Shinagawa. While you bathe, why not boil an egg?
This bath house charges 50 yen for an egg that you can cook yourself, in the hot spring water.

Address: Shinagawa-ku Koyama 3-9-1
Location: 5 minutes from Musashi Koyama Station on the Tokyu Meguro Line
Hours: 12:00 pm-12:00 am (weekdays) 8:00 am-12:00 am (Sundays) Closed Mondays
Facilities: outdoor bath, jacuzzi, water jet bath, electric bath, natural hot spring bath, resting area, "rocky" sauna (400 yen) and female-only rock sauna (1,300 yen).
Matsu no Yu – 松の湯
It is  450 yen to enjoy Matsu no Yu in Shingawa. The best feature of this bathhouse would have to be the retro murals painted on the walls.

Address: Shinagawa-ku Togoshi 6-23-15
Location: Near Nakanobu Station on the Tokyu Oimachi Line and the Toei Asakusa Line.
Hours: 15:00-1:00 am (Monday is closed, Sunday is 10:00-24:00)
Facilities: 2 indoor baths with wall murals, a rock garden with a bath attached, bamboo outdoor bath, sauna and "rocky" sauna
*choice of baths change every week women->men, men->women. The rock garden bath may or may not be available depending when you go.
Jakotsu  Yu – 蛇骨湯
It is  450 yen to bathe at Jakotsu Yu. It boasts a history that goes back to the Edo Period, and is conveniently located in Asakusa, close to Asakusa Temple.
It might be a nice place to soak after a long day of sightseeing.
Address: Taito-ku Asakusa 1-11-11
Location: Near Toei Asakusa Station, exit A1 and Tokyo Metro Tawaramachi Station, exit 3.
Hours: 13:00-12:00 am (Tuesdays are closed)
Facilities: outdoor bath, indoor bath (hot and cold), resting room, and sauna (plus 200 yen)
Related Posts