Since Valentine's Day is tomorrow, I decided to make a list of romantic ways to experience Tokyo. Even though this article is written with that purpose, I am not saying that these aren't great places to go anyway. Check them all out when you have the time!
1. Take a boat.
Japan is an island! And Tokyo harbor is right in front of you! It seems like a no-brainer to go on a boat.
Jicoo Floating Bar
http://www.jicoofloatingbar.com/ (English Available)


Designed by artist, Leiji Matsumoto, Jicoo Floating Bar has a very unique shape.
The bar serves light snacks and drinks. It departs from Odaiba and Hi no De Pier near Hamamatsucho. One round trip to Odaiba and back takes approximately an hour.
The views of Tokyo Bay are absolutely beautiful.
Symphony Cruise
http://www.symphony-cruise.co.jp/english/restaurant/index.html (English Available)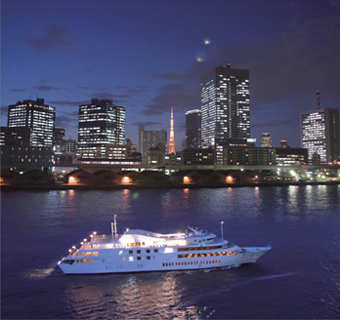 For as little as 2,000 yen (for the coffee set) you can enjoy a cruise around Tokyo Bay.
You can also enjoy a dinner for 5,000 yen~ (Italian or French Cuisine)
Factory Night View Cruise
http://www.tabione.com/factory_cruise/?utm_source=adwords&utm_medium=cpc&utm_campaign=adwords_cpc&afrieitcd=36gad#plan_now (No English)
For something spectacular but a little off-beat, why not try a night cruise where you get to see the glimmering lights of the factories that make Tokyo run?
Prices start from 3,000 yen/a person but differ based on the tour details. Bring your own drinks and food. Also, don't forget to bring your camera!
2. Get a table with a view.
Aqua City in Odaiba has reasonably priced restaurants with harbor views. Check here for a complete list.
To the Herbs has one of the best views of the Rainbow Bridge.
Mado Lounge
http://ma-do.jp/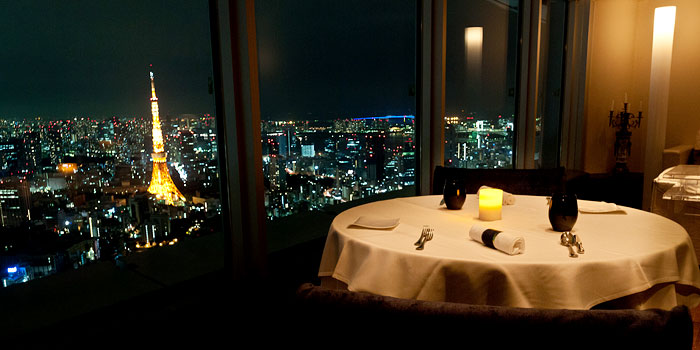 On the pricey side, but has a wonderful view and is located on the 52nd floor of the iconic Mori Tower. There are course lunches available from 1,980 yen. The dinner course changes seasonally and is available from 8.400 yen.
Take a stroll down Ramen Street and see Tokyo Station at night
Your super budget option! Tokyo Ramen Street is a collection of ramen restaurants that "best represent the best of the best when it comes to Tokyo."


It may not be scenic in of itself, but Tokyo Station can be a pretty place to walk around at night.

3. Go for a walk.
There are still a handful of winter illuminations that you can view until the beginning of March. A pretty good list is available here.
Toshimaen, in Nerima Tokyo has a pretty spectacular array of 7 illumination areas in its park.  The entrance fee to the park, however, is 500 yen. The lights can be seen on V-day, White Day, and every weekend until March 14th around 6 pm.
Institute for Nature Study in Meguro
http://www.ins.kahaku.go.jp/english/index.php
For a day walk, away from the hustle and bustle of the city, why not check of the Institute for Nature Study? It is just a 7 minute walk away from Meguro station. Entrance fee is 300 yen.
After you are done appreciating nature, you can go over to Meguro Dori for some furniture/home decor shopping for your love nest. If you aren't interested in shopping, it is still actually a fun place to go window shopping.
Last but not least, there is the Koishikawa Botanical Garden to check out.
http://www.bg.s.u-tokyo.ac.jp/koishikawa/eng/
It is 10 minutes from Hakusan Station on the Mita Line.
This garden is the oldest botanical garden in Japan and has an extensive collection of plant life. Entrance fee is 330 yen.

Related Posts