Maid Cafes are a major cultural icon in Japan, especially for foreign visitors. As cosplay went up in popularity, so did the demand for seeing people wearing it. At maid cafes you can enjoy the feeling of being the master of your own domain; the maids that tend to you will call you "goshujin-sama" (meaning "master"), or "ojo-sama" (meaning "mistress.")
Some maid cafes may have a table charge (you might want to ask if you don't see it clearly written somewhere) and all require you to order one drink or food item per hour. A staple menu item at many cafes is "omu-raisu" (omelet rice) which is a dish composed of ketchup-chicken rice topped with an omelet and ketchup sauce. Many maid cafes will write a special message in ketchup to squeeze out on top of the omelet. A pretty standard message is "萌" ("moe") which means a certain kind of adorableness that otaku fall head over heels for.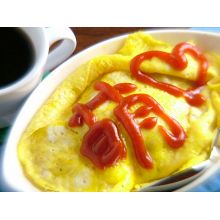 Some Akihabara maid cafes:
(see map below for location)
@Home Cafe
The busiest and most visited maid cafe in Akihabara. The main store has 4 floors of maid cafes (there is also one near Donki Hote). The floors are divided up into classical, entertainment, bar, and Japanese-style.
You can play games with the maids, take pictures, and even celebrate your birthday there! (for a fee) *There is a standard table charge of 600 yen*
Maidreamin
If you are looking for a colorful energetic maid cafe with tons of locations, you might want to check out Maidreamin. The food items are sickening cute…Do yourself a favor and try out the teddy-bear hamburg steak, or the "Kuma-tan Omelet Rice."
Cure Maid Cafe
If you are looking for the classical European maid experience this might be a good choice. Saturdays (from 19:20-21:00 pm) there is a live classical music concert by the maids. It costs 300 yen extra to enter the cafe during this time.
The Granvania
Touted as the largest maid cafe in Akihabara, the Granvania has an RPG tavern-esque feel. You can order omelet rice with a special ketchup-drawing for only 500 yen! Past 18:00pm there is a 300 yen table charge.
Related Posts