*Scroll down if you are just looking for store information!
On June 1st, Nakano got its first cat cafe. There are about 10 cats at the cafe, and if you connect with them you can take one home! These cats are all up for adoption!
This cafe is part animal shelter so some of the cats cannot be held, and some of the cats have suffered from a leg injury, etc., so you have to be careful when you play with them.
It is not often that you see a cat cafe that is also a center to adopt cats…Most cat cafes in Tokyo keep the same cats and just watch over the needs of the shop cats. They are a place where you can relax with a coffee and enjoy a bit of feline company.
Many Japanese apartments are also one-room large, and therefore do not have a designated living room area. Cat cafes try to re-create that "at-home" feeling of lounging around in your own living room (if you don't mind the fact that multiple cats live with you and strangers are constantly lounging on your furniture).

I know a lot of people come to Japan and want to experience one of these cafes, so I took the liberty of making a list of shops with store details below. Enjoy!
● ねこの缶づめ(Neko no Kanzume)- Nakano
Fee: 1,000 yen for 1 hour (1,200 yen on weekends) *the fee includes one drink and some cat food
Hours: 11:00~20:00 (closed Wednesdays)
HP: https://www.facebook.com/nekonokanzume.nakano
Getting there: Exit from the North Exit of Nakano Station. Follow Nakano Ave. up on the right side. Keep going until you see a clothing store called "MARUKAWA." Keep going for a bit after that to see a sign on your right telling you to go to the 3rd floor.
Address:東京都中野区中野5-68-9
Other Cat Cafes in Tokyo:
● 猫カフェきゃりこ(Calico)- locations in Shinjuku and Kichijoji
Fee: 1,000 yen for 1 hour (1,200 yen on weekends)
HP: http://catcafe.jp/index.php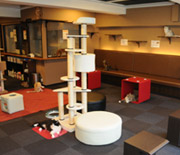 Shinjuku store:
There are over 50 cats at this massive 2 story cat cafe.
There are lockers where you can put your luggage/bags.
Hours: 10:00~22:00 
Getting there: Outside of the East Exit of Shinjuku Station. Head towards Yasukuni Ave. pass the Donki Hote until you see a soba noodle restaurant called "嵯峨谷." Go to the 5 flr of this building.
Address: 新宿区歌舞伎町1-16-2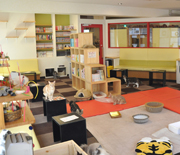 Kichijoji store:
Manga is available to read at this store. Enjoy a quiet afternoon reading alongside your new feline companions.
Hours: 10:00~22:00 
Getting there: Outside of the Park Exit of Kichijoji Station. Head to the right and you should see a ramen restaurant called "日高屋ラーメン." In front of that building there should be a sign pointing the way. It is on the 4th flr.
Address: 武蔵野市吉祥寺南町1-5-7 雪ビル4F

● ハピ猫 (Hapineko)- Shibuya
16 cats live in the heart of Shibuya and are awaiting your arrival!
Fee: 500 yen (plus tax) for 30 minutes
Hours: 11:00~22:00 
Getting there: Head out the Hachiko Exit of Shibuya Station. Head towards Shibuya 109. Walk up the street to the left of 109 and continue  until you see a suit store called "SAWASAKI," there should be a sign for the cat cafe there. Go up to the 3rd floor!
Address: 東京都渋谷区道玄坂2-28-3 道玄坂クラトスビル3階

● Curl Up Café-Meguro
17 cats inhabit this cute little cafe.
Fee: first hour is 1,200 yen (comes with drink)
Hours: Tuesday to Friday: 12:00~20:00; Holidays/Weekends:11:00~19:00
Getting there: exit the ticket gate at Nishi Koyama Station and turn right. Turn right again, away from the ampm and walk down the street. It is to your left.
Address: 東京都目黒区原町1丁目7-4

● ねこJaLaLa (Neko Jalala)-Akihabara
27 cats live in this otaku paradise
Fee: 30 minutes is 530 yen, one hour is 1,010 yen (holidays 1,060 yen)
Hours: 11:00-20:00
HP: http://www.nekojalala.com/
Getting there: exit the electric town exit. Go down Chuo Ave. in the direction of Donki Hote. Cross the street and keep walking straight down a side street until you get to another big street. Turn right and you should find it on the first floor.
Address: 東京都千代田区外神田3-5-5-1F

● 猫の居る休憩所299( Neko no Iru Kyukeijo nikukyu)- Ikebukuro
Enjoy cats in this posh setting. Some of the sofas cost over a thousand dollars, there is manga and specialty drinks as well.
Fee: 10 minutes is 200 yen. 60 minutes is 1,200 yen
Hours:  11:00-22:00
Getting there: exit the East Exit of Ikebukuro Station. It is in the direction of Sunshine City, but difficult to explain so please look at a map!
Address: 東京都豊島区東池袋1-23-9-5F
Please comment if you have any recommendations for another cat cafe for the list…There are so many in Tokyo that it is hard to sort them all out….
Related Posts